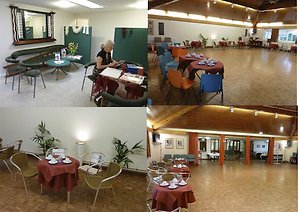 The Redland Club Community Centre, Burlington Road, Bristol BS6 6TN
Latest News
The community centre has re-opened and some activities are back up and running.
We look forward to more activities and events happening in 2022.

Tango returns with a new Spring Milonga at the Redland Club after two long years!
Come along on Sun 15th May afternoon for a long awaited milonga, featuring:
Traditional tango music, the classic tracks - DJ Michele
Light refreshments - tea, coffee, squash, biscuits, crisps, nibbles
(you are welcome to bring your own favourite snacks/drinks)
Looking forward to seeing you!
2-7pm
Entry £12
Updated COVID entry requirement:
Please do not attend if you have any Covid symptoms. Please show evidence of a negative lateral flow test done on May 15th.
michele@theredlandclub.co.uk
FB event

The Redland Club Community Centre is a local venue available for hire in the heart of Redland. It features a large hall as well as a meeting room and was established originally as a social club in the mid 1960's. It is owned by Bristol City Council and leased to Redland Club Community Center CIC, as a 'not for profit' social enterprise.
The community hall and meeting room, ideally situated on the Redland - Clifton border within Bristol, are available for hire to local groups, organisations and individuals for activities that are associated with health, exercise, dance, teaching, office use and community participation. It is also available as a venue for Childrens' Parties. Tango West holds regular Argentinian Tango classes and social dances at the club.

A significant sum has been spent in recent years renovating the Redland Club Community Centre. The building was insulated and reroofed in 2019, by Bristol City Council. In 2019, we were successful with an application for s106 and Community Infrastructure Levy and this helped to fund improvements to the toilet facilities, including an accessible toilet and a baby changing facilities. In addition, we succeeded in an application to Enovert Community Trust and subsequently to Enovert "Ibstock" for energy efficiency improvements. Redland and Cotham Amenity Society also helped with a third-party contribution for which we are very grateful. The result is a new boiler, LED lighting and secondary glazing to the Hall and Vintage Room. These measures have made a significant difference to the building making it more energy efficient, contributing to a reduction in CO2 emissions and achieving a much more user-friendly space.


It is one of the best Community Halls of its' type available in Bristol. Whether you are looking to hire a large community hall, a space sizeable enough to hold a function/class or a meeting room adaptable as office space then The Redland Club Community Centre may be the place for you.


In addition to the community hall for hire there is also a small external garden area and four dedicated car parking spaces – a real asset in the residential parking zone in Redland.

All groups regularly hiring the premises with classes such as yoga, dance, pilates and more, actively work with us to ensure it is well managed and enhances the local neighbourhood.


If you are looking for a Function Room, a Community Centre, a Community Hall, a Meeting Room, Office Space or venue for a Childrens' Party in Redland or Clifton, Bristol – then look no further – the Redland Club Community Centre should suit your needs.

Children's Parties

Our main hall is proving very popular for Childrens' Parties and is available on most some weekends. Contact Michele (email below) for more details and availability. Please note, we have a minimum charge of £85 for parties, (plus refundable deposit of £50) for up to 3 hours, to allow some time for setting up and clearing away.


CLICK HERE for Map to Club

email - Michele (Redland Club Community Centre)